Easy Instagram Tips that Convert
We've all heard how Instagram is consistently changing- and very quickly, too. Well today I'd like to share some easy Instagram tips with you that really convert. Whether you're new to Instagram or you've been using it for a while, I'd encourage you to take these tips to heart. Whether you just need a refresher or these tips are all new to you, I believe they will still be beneficial.
Create a Theme
First of all, decide on a color scheme. Get a little creative when deciding and then stay consistent with whatever you choose. The only way people will stay is if you keep your color scheme on point, because this helps them feel like they know what they'll be getting. An IG account that is all over the place rarely keeps loyal followers. Think of Instagram as your own, personal magazine. People are attracted to high quality photos especially when there's a color scheme to it. Think Good Housekeeping, Real Simple, Home and Garden, and other big-time magazines. They are always consistent in their branding, and you could usually identify what the magazine was even if there was no title.
This is what you want your Instagram to become. The photo to the left is my account @_jocelynep_ and the second one to the right is @tower28creative, both give you a story about what it is each do. They're both very appealing to the eye and colorful. The tones and filters are consistent and clear.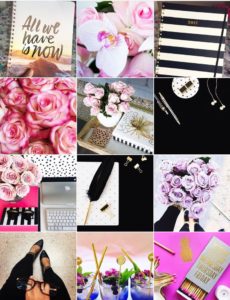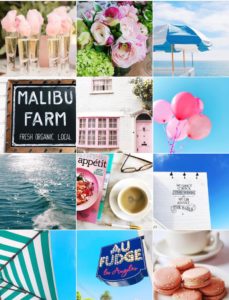 Find clarity when it comes to what to post- randomly posting pictures won't help you. Add photos of things related to your business or hobby and from there you can create tons of content and from all different angles.
Also, edit your photos the same way each time. Don't be the one who posts a clean, clear photo one day, and then adds a quote that's all choppy and blurry the next… this will kill your engagement and your credibility too. Keep your filters all the same with the same consistency. If you take photos with your phone I'd recommend using the app @colorstory. This is an incredible app that can make your photos stand out and look more professional. So definitely take advantage of it.
Keep it Simple
When it comes to creating beautiful photos another easy way to convert is to use a simple background. If you're taking photos yourself then pick a white background or other color that represents your brand and stick to it. Keep your background simple so that the main subject of your photo is what stands out. If your background is too "busy" it will take focus away from the main point of your photo.
Use Natural Lighting
One of the best times to get natural lighting is between 7-8am in the morning. This (along with right before sunset) is referred to as "golden hour" because you tend to get soft, golden light at those times. This light is better because it isn't as harsh as the midday sun, but it is still bright enough to take pictures in.
If you like to photograph flatlays, make sure that your colors are consistent in every flatlay. But if you shoot at all different times of day, in all different types of light, you will not be able to maintain that consistency. The best thing to do is to practice as you go and once you find the right time of day to shoot, the right spot to shoot, and the right color tones and editing strategies, you'll get some amazing photos. Trust me.
Here's a Pro tip: If you're all about flatlays you can use jewelry, books, bags, lipsticks, candles and other home decorations to really create a personal touch to your album and complete that beautiful photo gallery.
Use Wise Captions
This one is so important too. When you are intentional about captions you set the stage to convert even more. You can ask relevant questions or share information with your audience in the caption. And you know what's  interesting? I've found that at least 70% or more of the people are looking for information on Instagram. How crazy is that? It's no wonder this is a growing platform.
Besides all the pretty photos, captions are one of the best ways to grow your following and your engagement. Don't get me wrong, I do love my following, but the engagement is what matters the most to me.
People are more likely to comment, like, or share when you consistently share quality, candid, and authentic information or inspiration.

Other than the tips I shared above, there's no other "rules" to IG. My only other tip is to post consistently.  Pick a time of the day where you think your audience will be available to see your posts and schedule ahead of time so you're not stressing out about it.
---
Instagram is all about connecting with others and socializing so take advantage of this opportunity to grow and make some friends.
---
Do you have any Instagram tips that I left out?